For those looking for a white to accompany their meals, there is nothing better than opting for Demuerte White. A straw yellow wine that completes the Demuerte range of our winery to meet all the needs of consumers.
The wine, whose bottle closely resembles the other wines, has as its particularity a large white label on which the silhouette of a skull has been overprinted to Mexican taste, but this time the inks used are orange and gold. What is already in itself a statement of intent and a clear clue about its content, very different from the rest of the wines we offer in the winery Wineryon.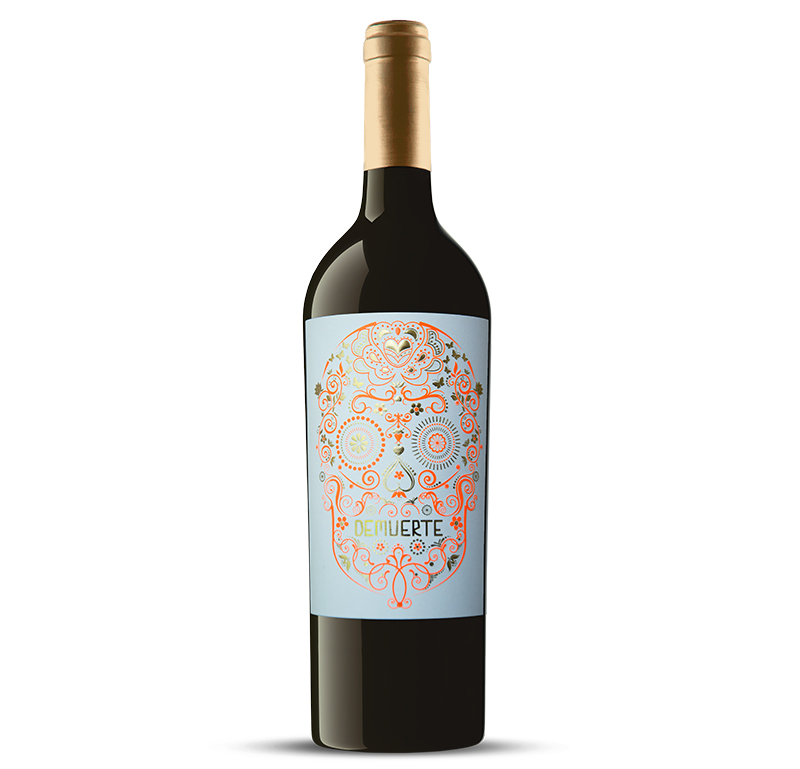 Demuerte White is a wine of great personality and good gradation (12.5 % vol.) that is made by mixing grapes of the varieties Sauvignon Blanc and Verdejo, 80% and 20% respectively. This results in a golden, clean and very bright wine like few on the market; hence its excellent reception among the public, especially among those who opt for white as a variety to accompany their meals.
Its production is purely artisanal and part of the cultivation of grains of both grape varieties in vines over ten years of age, which grow and develop on low yield land under irrigation. Conditions that offer an exquisite harvest that is collected by hand, trying to make sure that the fruit does not suffer any mishap. For which a manual collection of the bunches that are deposited in boxes of no more than 20 kilos has been chosen.
Which preserves the integrity of each grape by delaying its maturation process outside the plant.
Production of Demuerte White
Once the must has been extracted from these two grape varieties and mixed in the proportions explained above, the wine in its initial phase undergoes a cold pre-fermentation maceration and aging on a series of lees in storage for a total of four months. A time when the components of the wine begin to take shape and where the body of the wine is generated.
After this time, the wine is bottled in a bottle of dark glass in which it is protected until the moment the consumer uncorks it for consumption. A moment when you discover a wine that has aromas and flavors of fruits and white flowers, peach in syrup, but at the same time has touches of apricot, citrus fruit and similar crops of tropical aftertaste. Which is very pleasant to the palate and favors its pairing with vegetables and fish, but also with non-greasy starters and pastas.
Demuerte White is a light wine, but it has unctuousness; it has a fresh attack on the palate and has a creamy aftertaste and good acidity. Which means that the end of it is long and that it evokes fresh grass and white fruit in the aftertaste.
Given all these peculiarities, to make the most of this wine it is best to serve it fresh, being the most recommended that it be between 8 and 10 degrees Celsius.
Although you can find it in numerous stores throughout Spain, you can order as many bottles as you want through the winery's website. To do this, you only have to enter the section of the store. We will take care of sending you to the address that you indicate with great care so that it does not suffer any damage.